Passionate About Wellness
Modeling a Healthy Lifestyle From One Generation to Another
Hi, my name is Barbara and I became a Health & Wellness Coach and a Personal Trainer because I am
passionate about helping others on their wellness journey. We are all at different places in our lives and
my mission is to help you find the best path to your own health & fitness goals
. I will guide you through your workouts, help you with goal setting, motivation, building support, and accountability.
I will be your ally!
Nationally
Board Certified Health & Wellness Coach
Certified Personal Trainer
Certified Nutrition Coach
Together, we work through your struggles to find ways to prioritize your Health and Wellness and help you to discover how to finally overcome the obstacles and learn to live a balanced and healthy lifestyle.
I know how challenging and overwhelming it can be to navigate time-consuming yo-yo diets, fit time in for exercise, manage stress, and create meaningful connections in your relationships with others.
Project Fitness, Inc. was founded with a mission to help clients discover balance, joy, energy, and learn to reduce their overall stress. I have guided many clients to connect with their intrinsic motivation, cut through the overwhelm, and achieve their health and fitness goals.
I have advanced training in Health & Wellness Coaching and experience in fitness & nutrition, both in working with clients and through my own journey to becoming healthier.
I hold the designation of a Nationally Board Certified Health & Wellness Coach through the NBHWC in partnership with the National Board of Medical Examiners. I am passionate about helping you create the healthy life that you deserve using theories in Positive Psychology, Motivational Interviewing, Stress Management, as well as helping to create an awareness and understanding of balanced nutrition and physical exercise.
As a Personal Trainer, I will work with you online or in your home and create customized programs to help you gain strength, prevent injury, and look and feel your best. I focus on proper form and am passionate about creating programs that are as individual as you are. I challenge and hold my clients accountable to work hard while respecting where each of them are in their progress. My philosophy is that exercise should be fun, safe, and challenging yet doable. I truly love helping my clients improve their fitness because staying strong is the key to health and longevity.
No one should have to choose between being healthy and balancing other life responsibilities. I will take the time to listen to your goals and understand where you are in your journey and where you want to go. Coaching and training is based on a relationship of support and understanding, where the ONLY agenda is YOUR agenda.
Helping You on Your Journey…

A healthy lifestyle is all about balance
. Finding what works for you, establishing your own goals, deciding what you are realistically willing and able to do to attain those goals, and enjoy life to the fullest. There are days we go for the high-calorie snack or skip our workout and THAT IS OK – we just come back to our goals the next day.
I would be honored to work with you and be your ally to help guide you along your journey! Contact me to book a complimentary consultation, we will discover where you are on your journey and how I can best support you.
Barbara@ProjectFitnessCoaching.com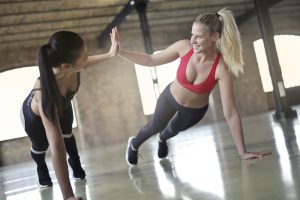 Goals
Everyone has goals. Personal trainers and coaches are no different. My goal here is to make sure each and every client who comes to me has a great experience. I want you to be comfortable and happy. I want to answer your questions, and help you find the exact match you are looking for. If I don't feel we are the right fit for your goals, I will be upfront and honest about it. Don't ever give up on your health & fitness goals, and I will never give up on helping you succeed.