Personal Training – Health & Nutrition Coaching
Live Your Best Life – Body. Mind. And Soul.
Want to learn more about working with me 1:1?
Coaching busy moms and college students who are feeling burned out and ready to start taking care of themselves…so that they can TAKE BACK CONTROL and live the life they deserve!
Fully Integrated Whole Person

Wellness
Live the life you deserve!
Would you like to focus on your health and improve your fitness?
Do you struggle with managing stress, work-life balance, overall well-being and finding time for self care?
Would you like to better manage your life and get out of overwhelm?
Would you like to set healthy boundaries and advocate for yourself with effective communication
and learn conflict management skills so that you can win the support you need?
Would you like to stop yo-yo dieting and eat in a way that leaves you feeling satisfied, energized & confident in your own skin?
Barbara is a Nationally Board Certified Health & Wellness Coach trained in behavior change, stress management, relationship/communication skills, and nutrition.
She will be your ally, helping you find focus, clarity, and finally accomplish the changes you want to make to…
…live your best life, the LIFE YOU DESERVE.
Personal Training, Life, Health & Nutrition Coaching can be done in person or remotely.
Book your free Strategy Session today!
Whether you chose to work with us in person, remotely, or a hybrid of both, we will help you reach your goals. You will receive detailed exercise programming, nutrition support and personalized coaching to help you establish healthier habits and create a new commitment to a healthy lifestyle.
Live your best life! The life you deserve!
Fitness and a healthy lifestyle is a journey, not a destination. At Project Fitness we understand that everyone is at a different place in their journey. We will meet you where you are, be your ally, and help you to progress from there.
All you have to do is… show up, invest in yourself, and let us be your ally. You will witness amazing changes. Self care supports overall health and longevity, it is a necessity if you want to live your best and healthiest life possible.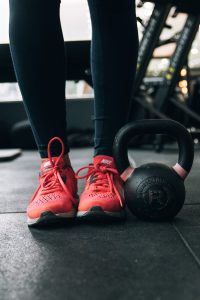 LOVE OF SELF
You matter and living a healthy lifestyle is essential to succeed in many activities of daily living. From succeeding at school or work, creating healthy relationships, playing with your kids, carrying laundry up the stairs or even competing in a fitness event. You will be amazed at the difference in increasing your fitness and wellness level by working with a Certified Personal Trainer and Life/Wellness Coach can make in all aspects of your life.
Exercise has countless benefits. It helps with focus, stress reduction, injury prevention, and even reduces the risks or effects of many chronic diseases. Invest in yourself and in your future, increase your physical and mental strength for yourself, and to be better able to care for those you love.
Contact us today to schedule your complimentary consultation and learn how Project Fitness can help you realize your potential.
"Before I started working with Barbara, I struggled to get to the gym and wasn't motivated to exercise at all. I felt that since I wasn't overweight I didn't need to work out. From working with Barbara I learned that is so far from the truth. We talked about ALL of the benefits of exercise and nutrition and she put me on an exercise plan that works with my busy schedule and my age group. During our workouts, Barbara explains every exercise and its benefits and cheers me on to complete my set! To my surprise, I am actually ENJOYING workouts now and have kept up with my schedule. I am feeling stronger, sleeping better, and have more energy. I look forward to my workouts with Barbara and highly recommend her program."
Natalie, Raleigh NC
"For anyone looking for personal training, I have the perfect person for you. Barbara has been training me and she is fantastic! She can and will help you meet all of your goals. I love working with her. She is motivating and challenging, at the same time accepting of your limitations. She customizes workouts to meet your goals and ability. The workouts are challenging yet doable. She has a system of checking in to make sure you have accountability for your diet, water intake, and increasing home movement. I finally feel motivated and supported in my journey for better health. If you are looking for a personal trainer that is motivating and invested in your quest for weight loss and overall better health, please reach out to Barbara. You will not be sorry!!! She is the BEST."
Maria, Cary NC
Want to read more about what our clients have to say? Visit our review page!